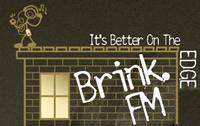 From the wild and crazy mind of my friend Patrick, comes… Brink.fm
Internet Radio is a beautiful thing and, if you're into Rock-n-Roll, this is the station for you!
Just head on over to Brink.fm… Chose your listening method from the right-hand bar and you're off!  There's a bonus too, if you just can't get enough, you can listen to brink from your cell phone using FlyCast.
Here's how to use FlyCast:
Just click the Flycast link from your phone, it will prompt you to download the correct version (Blackberry, iPhone, PC, Windows Mobile) for your phone.
Install FlyCast.
Set-up a username and password (It's Free!!)
goto Search, type brink fm in the shoutcast search box.
connect to brink
Listen!!!
Favorite the station so it's easy to get back.
That's all there is to it!! Hey, I'm listening now so should you!
© 2009 – 2011, Robert Owen. All rights reserved.