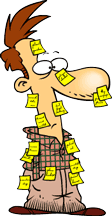 Darn Silliness!
As you've probably noticed I've been listening to Brink.fm a bit here lately… not because I'm a HUGE fan of Radio (I'm more of a Audio Book person) but, because they play some pretty good stuff and a Friend of mine runs it.
Patrick asked a bunch of us to record some Station IDs for him to use during song breaks. So, I cracked my knuckles, dug out the microphone, fired up Audacity and got to work.
I decided to share some of my wonderful creations with you all… So here, for your enjoyment, are my Station IDs for Brink.fm:
Me, not Produced

Me #2, not Produced

"Sally-Mae" not produced

"Fred" #1, not Produced

"Fred" #2, PRODUCED (Patrick added some tasty music behind this one)

© 2009, Robert Owen. All rights reserved.
Podcast: Play in new window | Download