Ever type a word you know to be correct yet Firefox says is misspelled?  Say something like snigglefritz…  Thinking there could be numerous spellings for snigglefritz,  I know that mine is the correct one.  What I really hate is Firefox telling me it's wrong every time I type it.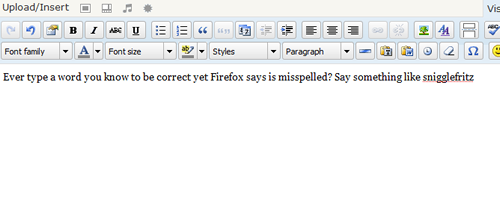 One way to get around that is to add your spelling to Firefox's Custom Dictionary.  To do that right-click on the misspelled word and select "Add to Custom Dictionary" from the context menu.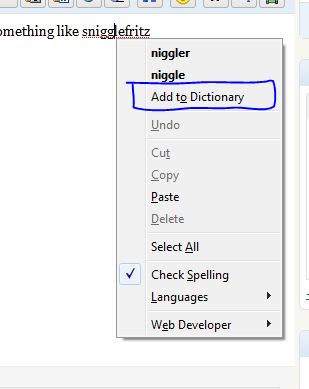 But, what if you made a mistake?  (I did today… that's what prompted this "How-To") What if you find that your spelling was incorrect?  Now Firefox is going to tell you that it's correct every time you type "snigglefritz".  You can't have that, can you?    So, How do you remove your custom word?
Pretty easily actually.
Don't get real excited.  There is no, "right-click" and remove for this.  You'll have to edit a file.  Don't worry, here is what you have to do.
The location of this dictionary file varies by Operating System.
For Windows 7 and Windows Vista, the file is located:
C:\users\[your username]\AppData\Roaming\Mozilla\Firefox\Profiles\[unique-alphanumeric-string].default\persdict.dat
For Windows XP, the file is located:
C:\Documents and Settings\[your username]\ApplicationData\Mozilla\Firefox\Profiles\[unique-alphanumeric-string].default\persdict.dat
Once you find the  file, open it with a text editor.  The file is simply a list of the words that you have added to the dictionary.  Now find your misspelled word and delete it.   There you go!  You have fixed your custom dictionary.  You can actually use this method to add words to your custom dictionary as well.  Just open the file and add as many words as you like.
© 2009, Robert Owen. All rights reserved.