When Vista came on the scene one of the new features I thought was pretty cool was the new Snipping tool.  It's a really useful little utility and for the most part it's great.  In Windows 7, the tool is still there (no improvements that I can see).  But, one of the things about this little utility that bothered me was my inability to use it to capture context and other drop-down menus.  Every time I would open the menu I needed to capture, it would disappear as soon as I selected the Snipping Tool.
This really annoyed me.  There has to be a way!?  Well, it turns out there is a really simple solution for this.  To use the Snipping Tool to capture menus, follow these steps.
First, locate and start the Snipping Tool.  When the tool starts it will be in "New capture" mode.  Click Cancel but, don't close the tool.  Next, open the menu you want to capture.  With that menu open, press the "Control" and "Print Screen" buttons on your keyboard.  This will re-activate the Snipping Tool in the "New Capture" mode.  Now just capture your image.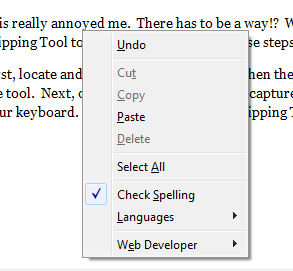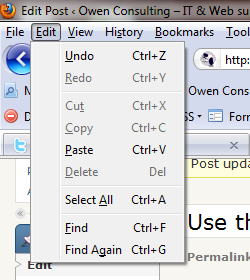 As you can see above, it works quite well.   This, "work-around",  functions the same in Windows Vista and in Windows 7.  I've also tried it on my laptop and desktop and there was no difference in function.
© 2009, Robert Owen. All rights reserved.