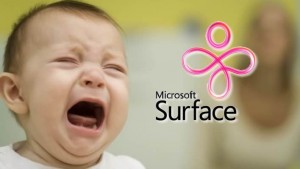 I've been looking at getting a Microsoft Surface  and was on the fence until they announced that there was a 128GB Pro version that was capable of running full desktop applications.  When I saw that, I had to have it!

I've been waiting and watching for the release date of February 9th to come around.  This device in all it's glory would only be available from 3 locations;  The Microsoft store, Staples and, Best Buy.  None of these retailers offered the ability of pre-order so, I just had to wait until the release day.  No problem, right?
My choice of retailer was made, I chose BestBuy. I chose them for one reason, I had some gift cards.  What makes a cool new gadget better? Using free money to get it! So again, I waited.  No problem, this is Microsoft not Apple.  release day will be fine.  Much like when I purchased the Zune HD on the day it released, I'll be able to walk in the store and get it, right?
WRONG!
I arrived at BestBuy at 10AM this morning, the 9th, walked in and went straight to the Tablet/PC area.  I didn't see it.  I didn't see a display. All I could find was the Surface RT. (not the one I wanted).  Well, since as my wife says "I'm not a good looker",  I went to a set of clerks and asked, "Do you all have the Surface Pro?". They looked at me and replied: "Nope. We got a display model, don't have it out on the floor yet though but no stock to sell."  I then inquired about other Best Buys around. They checked the computer and replied that "no Best Buys around the are got any stock"
Crap, I thought.  Ok, No problem, I'll regroup.  Let me go across the parking lot to the Staples.  They too are supposed to have them. I'll just get it there and use my BestBuy card to buy the type cover.  Entering the Staples, I found much a similar set-up.  I found no display  and no Demo any where near the other Tablets and Laptops.  I went over to the repair counter and there, by the monitors, I saw a Surface RT display.   So, not being a "Good Looker" I asked a clerk.  This clerked sighed at my question and fired off this answer. 'Nope, we did not get them.  No Demo, and none to sell" and before I could ask, she said and no other staples in Knoxville got any either.
And, we wonder why Microsoft launches seem to fizzle.   A little better planning for these type of releases needs to be done, I think.  Apple sells out on launch days too but, they allow pre-ordering and at least they make sure their retailers have "some" of the items to sell on the release day.
I have hope though.  According the the Surface blog, they are:
We're working with our retail partners who are currently out of stock of the 128GB Surface Pro to replenish supplies as quickly as possible. Our priority is to ensure that every customer gets their new Surface Pro as soon as possible.
I had planned a series of posts with the unboxing and about its use and performance but, all you get is my crybaby story.    I hope you get some enjoyment from my shallow narrative.
© 2013, Robert Owen. All rights reserved.