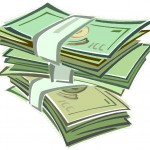 I was at a recording session a couple of weeks ago and on break, another musician proposed a riddle to me that has been driving me crazy…. I've been thinking it through and have yet to come up with an answer.
I'm sure the answer is out there, but I am resiting the urge to "use the Google".  I've repeated it to several people and get the same response each time, "Wow, that sounds familiar.  I think I've heard that one before." However no one has been able to give a decent answer.
Here it is:
Three Men are on a trip and stop at a hotel for the night.  To save money, they rent one room.  The room was $30.00 for one night and each man gives the Desk Clerk $10 for the room.

After they go to the room, the Desk Clerk realizes he charged them the wrong rate.  It was Friday night and the special was $25.00 not $30.00.  So, he sends the bell hop to the room with a $5.00 refund.  On the way to the room, the bell hop gets to thinking that $5.00 won't split evenly between 3 men.  So, to save the confusion he kept $2.00 and refunded them $3.00.  $1 each.

Now each man has paid $9 for the room.  3 x 9 = $27.00 and the bell hop kept $2.00.  $27.00 + $2.00 = $29.00.

What happened to the other dollar?
So, where is it?  Could it be the tax?  Could it be crazy mathematics misdirections? Again, I refuse to "use the Google"
Creative solution to follow…
© 2013, Robert Owen. All rights reserved.