I'm trying my best to keep things relevant… Well, maybe I'm not. Anyway, as you can tell.. or maybe you can't I don't know, this is yet another Non-Coldfusion, non-Techincal, non-helpful Post.. Hey this blog is "Random" isn't it?!?
Well, I've decided to try and improve my picture taking skills. When building websites, you always find yourself in need of some picture or image you don't have. I've never been a good photographer and… well.. these images aren't necessarily good. But The bug was cool looking so I thought I'd share a few images.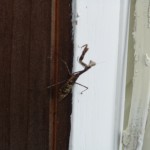 Found this guy on my back door…
Had to get his/her picture.. There are some other angles on him/her inthe slideshow link above.
How do you tell male from female mantis?
Here Are some more images:
© 2006 – 2011, Robert Owen. All rights reserved.