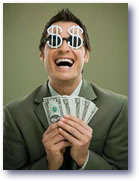 I got an new variation on that Nigerian E-mail Scam today.
Remember that one? It's the one where somebody rich in Nigeria can't get the money out of their relatives estate and needs to transfer it to your American Bank account. And, in return they will give you a generous fee… All you have to do is give them "ALL" your information. Bank Name, address, bank account, social security number, blood type, next of kin, etc, etc, etc…
Well, the one I got today takes on another angle, check it out:
About Your Payment.

I am Cindy Williams, a US citizen; I reside here in Norman, Oklahoma. My residential address is 1900 Renaissance Drive   Apt 1307 Norman, Oklahoma 73071, USA.   Phone  (405)366-5674.

My late father was one of those that executed a business contacts in Nigeria years ago but the paying bank refuse him the payment till his death, having paid over $70,000 trying to get his payment but to no avail. After his death,  I decided to travel down to Nigeria with some of his documents, after spending several weeks in Nigeria I was privileged to meet with Rev. Jacob  Etebom, who was a member of the payment award committee.  I asked him to help me in getting my father's payment since he is a member of the payment committee.

It was after going through the legal processes that I got to discover that those contacting my late father are fake and with no genuine intentions .Then he assisted me in processing my father's payment and took me to the paying bank were i received an ATM card for the said payment, and today I have received my father's funds of $1.2Million USD.
Mr. Jacob Etebom showed me some information of those that have not received their payment; and I saw your contact details as one of those that the World Bank approved their Payment of $5.5MillionUSD, so i decided to notify you on what to do, You have to contact Rev. Jacob now on this information below if you still have interest in receiving your funds.

His name: Rev. Dr. Jacob Etebom,  Email:   (  e.jacob@jmail.co.za  ) Phone:234-01-4921649, Office address: 2 Awolowo, Ikeja Lagos Nigeria

You really have to stop your dealings with those contacting you because they will dry you up until you have nothing to eat like they did my late father. The only money I paid was just the ATM card activation fee and a compensation of Mr. Jacob's services, which I think you should know Just in case you might not be able to make the trip down to Nigeria.

Please do not tell Mr. Jacob that i gave you this info, just tell him that someone recommended you to him.
Thanks for your Understanding.
Ms. Cindy Williams
Now, I would hope there isn't anyone left out there who would be silly enough to fall for this. But, if you got this or something similar and are teetering on the edge of "Hey, what do I have to lose??", Stop right now! Shut down your computer and go mow the yard. While mowing your yard find a Bee-Hive. Throw some Rocks at the Bee-Hive, stand still and let the Bees sting you. That's about as smart as responding to one of those e-mails.
Seriously, just delete it and move on. You'll have a much better day if you do.  😉
P.S. – I don't really encourage you to anger Bees… That would really hurt and not be very smart. So, umm… Don't try that at home! (As they say) 🙂
© 2009, Robert Owen. All rights reserved.