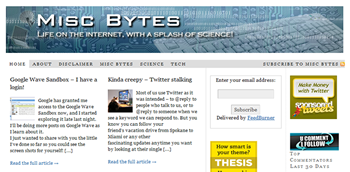 I've said it before…   But this time I mean it!   The Site of the Week is back!!  And… it's here to stay!
Like the Friday Funnies,  this will be a weekly endeavor to share some of the interesting sites that I run across whilst I trudge through my weekly work (and play) on the internet.
This week's site, Misc Bytes, is a great site that really does seem to have a little "something" for everyone! Science, Tech, articles on blogging, even articles on Pets.
I've really enjoyed the content on this site since finding it a while back.   There is a definite "Tech" lean to most of the content but, don't let that dissuade you.  Everything is well written and there's lots there to see and, I think there will  be lots more in the future.
Here's a little info about the site and author:
I'm a divorced mother of two living in the southeastern U.S.  I have a B.S. in Applied Biology from Georgia Tech, and I'm an animal lover and internet addict.   MiscBytes is my blog with posts ranging from science news to articles about blogging to new Google features – generally a blend of things on or about the web, with a splash of science thrown in.
Take a minute or three and give them a visit.  Hey, you could even leave a comment or two, if you like. 😉
Check them out at Miscbytes.com,  I think you'll be pleased.
© 2009, Robert Owen. All rights reserved.