Day four.  Almost an entire work week keeping moving on the site.    We had some Coldfusion woes today at the office, and some Websphere woes, and some programmer woes, and… well people and technology can be difficult. Let's leave it at that.
But, if anyone out there has any suggestions for troubleshooting an "Axis fault: Connection refused: connect" error when trying to call a coldfusion web service via <cfinvoke> over  https, then I'm all ears!  It's not a firewall (there is none between these servers)  issue and yes, the cacerts file has the certificate imported correctly. Google has been less than helpful with this problem. So be assured when we solve it, I'll post the working solution so that when it happens again there will be a possible course of action for you.
Anyway, the picture for today comes from the Great community of Halls… You never know what you'll see in Halls and this picture kind of proves that.  This picture reminds me of the "A-Team" for some reason.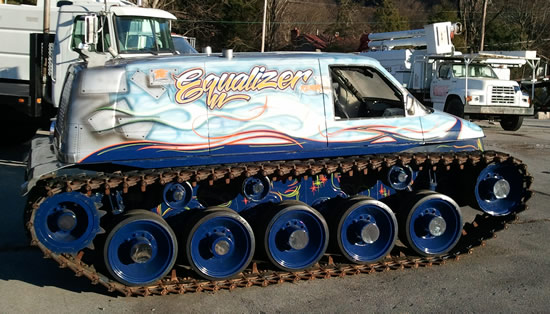 If a man had one of these,  he wouldn't need a hammer!  I think even the Honey Badger would appreciate this vehicle.  If he could drive that is… Wait, who am I kidding,  the  Honey Badger doesn't give a sh@!
© 2011, Robert Owen. All rights reserved.