Site-of-the-week – GinaLynette.com
Let me start off by saying, I have known Gina for many, many years.  All the way back to Middle School.  (I wont say how long that actually is because, I'm not really that old 😉 or at least I wont admit it. ) But,  I can safely say that she is one of my "oldest" friends.  (Real and the Facebook kind).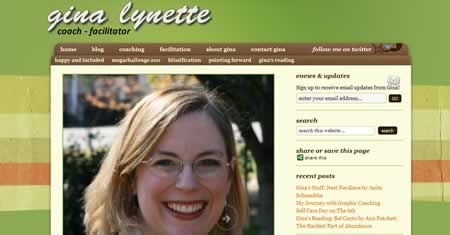 At any rate, Gina is a tremendous person and very dedicated to helping others. Gina is a life coach, facilitator and trainer and is a very "upbeat, positive" person. It truly is a pleasure to know her. So, when Gina asked for help with her website, I was only happy to oblige.   It did take us a while to get started but, once we did, we got her going in spades.  Here's some info about Gina from her site:
…In her Monday through Friday life, she is a life coach, facilitator and trainer. She has a BA in Organizational Management from Tusculum College and is in graduate school at Capella University, working toward her Master's in Leadership Coaching Psychology.

"I consider interactions with my network of precious friends to be a vocation of sorts," Gina says. "My passion — true passion — is walking folks through the process of discovering their bliss. Whether I am working with a close friend, an individual coaching client, a private organization, or a huge statewide system, my candle burns so much brighter when I am able to point people in a positive direction."

In the artistic realm, her photography has appeared on several magazine covers, she collaborates on watercolor quilts/multi-media collages with Ned Andrew, and she's endlessly exploring other creative avenues…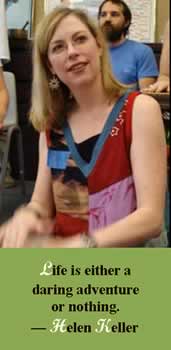 So, if you are looking for guidance. Looking for someone to help you meet your goals. Or, you just need a "cheerleader". Gina can help you.   So, take a minute (or three) and visit her Website.  Take that first step, schedule a 30-minute phone conversation with her. — tell her what you want.
I'd be willing to bet she can find a way to help you out.
© 2011 – 2013, Robert Owen. All rights reserved.