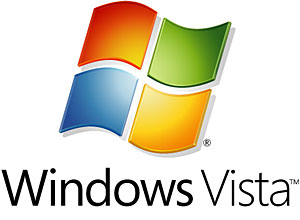 Windows Vista Service Pack 2 was made available today through Windows update. I saw that there were some concerns on the web on installing the update.People having "issues". There was one  report of a User having to do a system restore after the update completed because the machine became unbootable. But, I'm brave and need to test the update so, I plowed right along.
It was a typical multi-stage update, similar to the Service Pack 1 Installation, but took a little longer. The primary download was about 300ish meg so, that took a bit of time. Then the OS portion of the update started. This phase was relatively quick, only taking about 8 or so minutes to complete. Then the OS starts the shut-down and 3 stage install. Stages 1 and 2 in prior to the reboot took about 30 minutes to complete. Once those were done the machine rebooted and finished stage 3 which only lasted a couple of minutes tops.
I read that people noticed an increase of Disc space after the Service Pack was installed. Don't go getting your hopes up. Although you probably will see a space gain, it is only from the removal of all but the latest restore point. Remember, Vista saves musltiple "Previous Versions" and they tend to take up a bit of space.
What's included in Vista Sp2? Well, here is the spiel from microsoft:
 Program compatibility. Microsoft works to ensure that your programs work seamlessly on Windows Vista. We also work with our partners to improve the reliability and compatibility of non-Microsoft programs. So, SP2 includes previously released updates that are available to you when you use Windows Update, and it also includes new compatibility fixes for individual programs.
Hardware support. Among other improvements, SP2 provides you with additional support for Bluetooth wireless technology and improved performance for Wi-Fi connections after the computer resumes from sleep mode. Additionally, you can now record data to Blu-ray Disc media. 
General operating system updates. SP2 includes Windows Search 4.0, which has improved indexing and searching capabilities. SP2 also includes fixes that can improve recording TV using Windows Media Center.
There are lots of other things in there as well… for a full account Check out the TechNet Release Notes.
How do you get the Service Pack?   Well, it should show up in your Windows updates.
Should you do the update?   Well, I would say yes. But, You Have To Have SP 1 Installed First. This update WILL NOT install service pack 1. So, If for some reason, you on't have that one done, install it and any other update needed first.
© 2009, Robert Owen. All rights reserved.