Happy Tuesday !!!   Unless you are not reading this on a Tuesday. In  which case I would say,   " Happy   ________day!!"   So, this morning  I opened up my e-mail and was treated to another …  (*dum dum duuummm*) E-mail, scam attempt!!!  (I feel like there should be lightning strikes and thunder when I say that)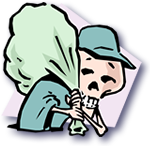 Not that I want anyone to get "taken in" by these foul creatures, I just think they need to have a little more ingenuity…  A little more creativity…  COME UP WITH SOMETHING NEW! You're boring us already!!
But, in case that there are others out there who receive the e-mail I got and are "unsure" of its validity…  Then let me assure you that what you read below is A SCAM!   Delete this and go about your day.  Go to your local Panera Bread and have a cup of coffee and rejoice that you were not suckered today.  Hey, you could even treat yourself to one of their tasty pastries!
UNITED NATION (UN)
DEBT RECONCILIATION DEPARTMENT.
GENEVA-SWITZERLAND.
Our Ref: UN-0XX2/987/2010
Dear Sir/Madam,

EUROPEEAN UNION, WORLD BANK, UNITED NATION ORGANIZATION OFFICIAL APPROVAL PAYMENT VALUED $8.3M

The British Prime Minister in conjunction with EUROPEEAN UNION, WORLD BANK, UNITED NATIONS ORGANIZATION do hereby give this irrevocable approval order with Release Code: GNC/3480/02/00 in your favour for your Inheritance/contract entitlement/award winning payment with the UNITED NATIONS to your nominated bank account.

Now your new Payment, United Nations Approval No; UN5685P, White House Approved No: WH44CV, Reference No.-35460021, Allocation No: 674632 Password No: 339331, Pin Code No: 55674 and your Certificate of Merit Payment No: 103, Released Code No: Be
appeared the next on the list of our outstanding beneficiaries to received payment at the Beginning of this banking season. SO contact: MR. PETER JEFFERSON on his contact Direct email: mrpeterjefferson@aol.com or by Phone +44 7024060524 for the immediate release of your contract/inheritance/Award Winning claim Be informed that you are not allowed to correspond with any person or office anymore, You are required to send bellow Information for your transfer.

1) YOUR FULL NAME:
2) ADDRESS, CITY, STATE AND COUNTRY.
3) PHONE, FAX AND MOBILE
4) COMPANY NAME (IF ANY) POSITION AND ADDRESS
5) BANK DETAILS
6) PROFESSION, AGE AND MARITAL STATUS
7) COPY OF YOUR INT'L PASSPORT/DRIVERS LICENSE.

NOTE: YOUR PERSONAL CONTACT/COMMUNICATION CODE WITH CITI BANK IS (511), YOU ARE ADVICE TO SEND YOUR FULL BANKING INFORMATION TO THE CITI BANK OF LONDON THROUGH THE OFFICE OF INTERNATIONAL REMMITTANCE DIRECTOR HEADED BY MR. PETER JEFFERSON AND MAKE SURE YOU SPEAK WITH HIM, WITH YOUR NEW PAYMENT CODE FOR THE RELEASE OF YOUR PAYMENT AND SEND HIM ALL YOUR BANKING INFORMATION NOW. Regard. Senate CONTACT CODE (511) OFFICER: MR. PETER JEFFERSON.

Best regards

SIR GEORGE GRAHAM.
DEBT RECONCILIATION DEPARTMENT.
UNITED NATIONS AND EUROPEEAN UNION.



As un-creative as they are being, they should just go ahead and sign this "Best regards,  Dirty Scammer"  It would only make it slightly more obvious.
© 2010, Robert Owen. All rights reserved.