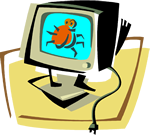 You had a virus, drive corruption, or some other OS altering situation.  But, being the hero you are, you resolved it and your PC is up and running again.  That is, until you try to access the internet or some other network resource.  The computer sits there trying to access that web page but nothing is happening… (Much like a MAC and its "spinning wheel of death").  First you check your network connection… Then check to see if you have obtained an IP address and other credentials.  All good.  What gives?
One possibility is that you have a corrupt TCP/IP stack.  What is the TCP/IP stack?  First, TCP/IP  is an important part of the operating system that allows it to communicate across a network.  (Transmission Control Protocol /Internet Protocol)  Network architectures are designed in layers, such as TCP/IP, OSI and SNA, and are called "stacks." (See TCP/IP, OSI model and protocol stack)
What can causes a corrupt TCP/IP stack?  Drive corruption can cause this, or sometimes a virus can re-write your TCP/IP stack to suit it's purposes – Bend it to it's will, so to speak.  So when you remove said virus your TCP/IP layer is rendered unusable to the operating system (corrupted).
To fix this issue we use the NetShell utility.  The NetShell utility (netsh) is a command-line scripting interface for the configuring and monitoring of Windows XP, Server 2003 and Windows Vista networking services.  This will reinstall and reset the TCP/IP stack (Internet Protocol) to its original state.  To do this in Windows XP or Server 2003 we used the following command:
netsh int ip reset [ log_file_name ]
Example:
netsh int ip reset resetlog.txt
The above command will reset the TCP/IP stack and write a log file called resetlog.txt, recording it's actions.
Windows Vista, adds a little hitch to the process because of the UAC (User Access Control).
To reset the Stack in Windows Vista there are a few more steps:
Click the Start Pearl.
Type Cmd in the  Search box.
Press the Ctrl-Shift-Enter (this is a shortcut that will run the Command Prompt as Administrator. )
Type netsh int ip reset at the Command Prompt then press the Enter key.
You will then have to restart the computer to complete the reset.
The command will remove all user configured settings on TCP/IP stack and return it to original default state.  After the reboot completes, your network and internet browsing and use should return.
© 2009, Robert Owen. All rights reserved.