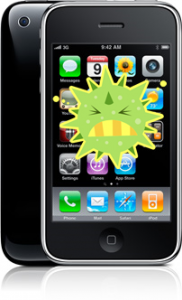 I just followed a tweet over to Mashable and read another article about the latest Apple security flaw. This time affecting the iPhone.
Cybersecurity researchers, Charlie Miller and Collin Mulliner, have identified a vulnerability in the iPhone OS that will allow an attacker to take control of the Phone via a SMS message.  They have, supposedly, notified Apple more than a month ago about this vulnerability, but  the company still hasn't released a patch.
The two plan to publicize the security flaw today at the Black Hat cybersecurity conference in Las Vegas.  If you are a victim of this attack, currently the only fix is to turn off your phone.
Hopefully Apple will get a move on and update the OS before this become a wide spread problem. Can't blame this one on AT&T, that's for sure. If you are an iPhone user, you might consider pulling out that Blackberry again!

You can read more about this security flaw from these websites:
http://mashable.com/2009/07/30/iphone-virus/
http://mashable.com/2009/07/30/iphoneocalypse/
http://mashable.com/2009/07/29/iphone-sms/
http://www.forbes.com/2009/07/28/hackers-iphone-apple-technology-security-hackers.html
***7/31/2009 – UPDATE:   Apple has issued an update to fix the SMS Vulnerability… iPhone OS update 3.0.1 has been released to iTunes.  You'd better synch that phone now!!!  Update is about  280 -ish megs so you'd better get started.
© 2009, Robert Owen. All rights reserved.