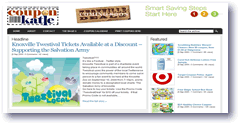 Live in Knoxville?
Looking for a good deal?
Looking to save some money?
Thought about trying to use coupons but don't know where to start?
Well then CouponKatie.com is the place you should start.  There is a variety of information on this site.  Not just grocery coupons (although there is plenty of them),  Katie provides information about deals in other areas as well.  Free Calendars from crayola.com,  free  Gym Classes,  information on local events,  Katie even gives you direction on coupon collecting.
From the couponkatie.com about us page:
Welcome to CouponKatie.com and my name is…Katie.  I started CouponKatie because my friends kept asking me "You saved HOW MUCH!?!  How did you do that?"…and I thought I should share the information I have gathered over the past year with the hopes of helping folks stretch their grocery dollars and realize the savings that can be achieved through a little planning and a lot of coupon clipping.  I am a "never-have-a-moment-of-silence" stay-at-home mom of two and live in Knoxville, TN.  I started clipping coupons and researching ways to save money in early 2009 more or less because of a wager with THE HUSBAND.

The goal of this website is to simply inform you of the best deals here in the Knoxville, TN area and to help you develop your own Coupon Strategy.  Although I am here in Knoxville, most of the information posted here can be applied to your town.
CouponKtie.com is too great a resource to ignore!  Be sure and give her site a visit (if you haven't already)!  What do you have to lose?  You can also stay updated on Coupon Katie's latest postings by following her on twitter.

© 2009, Robert Owen. All rights reserved.